How To Choose the Right Technology for Your Senior Living Community
Although our culture maintains stereotypes of older adults as technology phobics or novices, the Pew Research Center reports that over half of senior citizens use the Internet and have cell phones. Nowhere is this technology more important than in senior living communities, allowing older adults to stay connected with family and friends to build a vibrant community atmosphere.
Connected residents with easy and regular contact beyond senior living campuses don't run out of new things to talk about with new acquaintances. When evaluating options for your senior living community, maintaining a focus on residents' needs and their quality of life is critical. When it comes to using technology, older adults often cite simplicity and ease of use as essential characteristics. IndependaTVe™ fulfills all of these characteristics and more, making it an excellent choice for your senior living community. It's an old familiar friend reborn.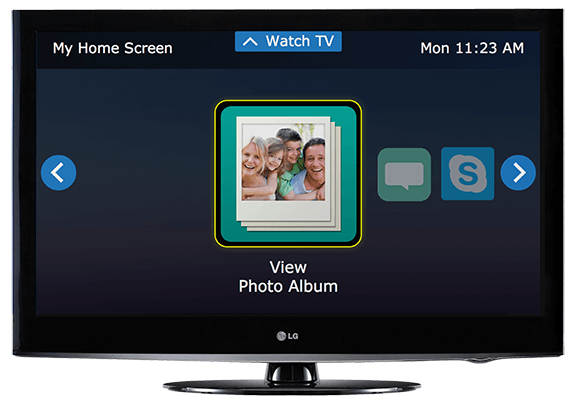 Emphasis on Integration
Senior living communities are busy places, and the technology you choose needs to reflect this. From dining options to outings and social activities, residents will appreciate having everything in one place. IndependaTVe™ is the first and only smart TV designed specifically with seniors' needs in mind. Its integrated platform prevents important information from being lost or missed by proactively reminding them of appointments, events, and dining options all from their in-room TVs. Plus, residents can video call with family members with a click of a button, allowing residents to stay connected to their loved ones.
A Unique Opportunity for Family Engagement
IndependaTVe™ is the perfect solution to keep residents engaged with their friends and family. Authorized users can use the Caregiver Mobile Application to view a wellness summary, schedule reminders for check ins, view the calendar of events, or receive alerts. Plus, this app provides an integrated interface for loved ones to video chat via Skype, share photos, or send messages.
Opportunities to Monitor Health
Maintaining the health of residents is of the utmost importance, and IndependaTVe™ technology can help. Medication reminders, health measures, upcoming doctor's appointments, and other health indices are all in one place. IndependaTVe™ has the potential to significantly decrease medication mismanagement, forgotten appointments, and other factors that often impact seniors' health.
Backwards Compatible and Future Proof
The problem with investing in technology for your senior living community is that everything seems to be out of date within a few years. Not so with IndependaTVe™. The engineers at Independa have worked tirelessly to make IndependaTVe™ backwards compatible. Additionally, as new technological capabilities emerge, they can be seamlessly integrated into the IndependaTVe™ interface, making it dynamic and future proof.




---
---