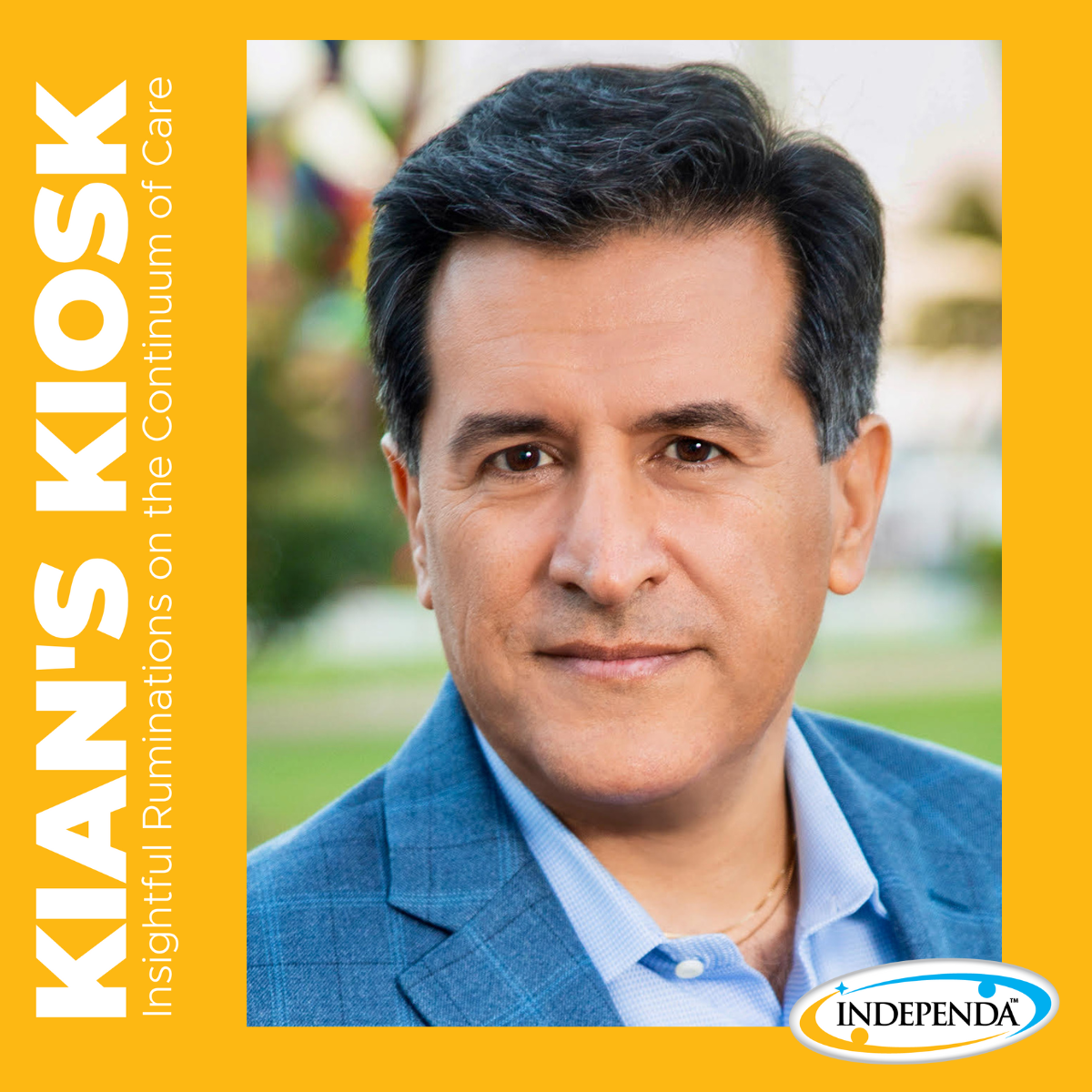 Kian's Kiosk – Insightful Ruminations on the Continuum of Care, is a monthly podcast from Kian Saneii, Founder and CEO of Independa, Inc. Independa is an award-winning leading provider of remote engagement, education and care software solutions. Independa has business to business offerings, through the Independa Enterprise and Independa Hospital Patient Education Systems, and reaches US Consumers through the Independa Health Hub®, which includes LOTS of free and fun applications on LG TVs, including a Pharmacy Discount Card, message and photo sharing, video chat, games, and more!
The Independa Health Hub is an ecosystem of healthy offerings and benefits, all integrated within webOS-enabled LG TVs from 2021 onwards, including access to doctors, dentists, and therapists, as well as a wide range of beneficial video content from WebMD and others.
Join us monthly for an upbeat and yes, insightful discussion with healthcare leaders across the continuum of care, and visit Independa for more information on the Independa Health Hub. You can also find Independa on LinkedIn, Twitter, Facebook and Instagram.
EPISODE 4
Reinventing Healthcare Delivery to the Consumer, with Donald Jones, CEO, Cardiff Ocean Group
Donald Jones is a globally recognized leader in digital medicine, digital therapies, technology enabled health services and virtual-first healthcare delivery. He is a sought out as a speaker, advisor and board member. Over the last 40 years he has worked across over 65 companies in pharmaceutical, medical device, wearable, smart apparel, material science and healthcare. He is an Operating Partner with Takeda Digital Ventures (TDV). He sits as an independent director on boards of VC and PE backed companies and is Board Chairman of Paris based DREEM. Don has advised the boards and executive suites of many of the largest pharmaceutical and medical device companies including Dexcom, Resmed, Cepheid, Sanofi, Teva, Astra Zeneca, Genentech, Otsuka, Novo Nordisk and the Verily/Sanofi joint venture, Onduo. He is a Senior Advisor with both McKinsey & Co. and the GLG Institute. Jones serves as Chief Digital Officer of the Scripps Research Translational Institute (SRTI), collaborating with the renowned Eric Topol, MD, where they co-founded Scripps Digital Medicine, the world's first digital health clinical trial center and the non-profit West Health Institute, raising over $130 million. At JP Morgan Healthcare in 2021, Don founded IMPACT, the Virtual First Healthcare Provider Collaboration, in partnership with the Digital Medicine Society (DiME).
​Beginning in 2002, Don led Qualcomm Wireless Health Global Strategy and founded its healthcare subsidiary. In 2005 he founded the international Wireless Life Sciences Alliance, merging it with HIMSS in 2016. Earlier in his career, Don was COO of MedTrans (re-named AMR), in which he was instrumental in growing from $4.5 million into the largest emergency services provider in the world (now Global Medical Response), with over 38,000 EMS personnel, 8000 ambulances and 550 medical aircraft. He was Founder and Chair of EMME, Mexico's largest consumer membership healthcare provider and largest private practice, with over 450 physicians. As advisor to the Board of AMR, he helped build the largest medical group in the US, under the EmCare brand (now Envision Healthcare), with over 25,000 physicians. In 2014, EvoNexus recognized Donald Jones as Digital Health Innovator of the Year. Don conceived the $10 million Qualcomm Tricorder XPRIZE, a global competition for a consumer device which successfully makes medical diagnoses. The XPRIZE was awarded in Hollywood in April 2017.
EPISODE 3
Reinventing Retirement Living, with Lynne Giacobbe, CEO, Kendal at Home
In Episode 03 of Kian's Kiosk, you will hear an informative interview with Lynne Giacobbe on the very important topic of RE-Inventing Retirement Living. Ms. Giacobbe has served as CEO of Kendal at Home since its inception in 2003. Through the development of Kendal at Home, Lynne has helped to bring the concept of continuing care to older adults who prefer to spend their retirement years in their own home. The vision, mission, services and efforts she and Kendal at Home deliver are fully aligned with their member clients' health goals, which is to delay as long as possible, or fully eliminate, the next episode or entire stage of care. She has a 98% success rate in doing so!
A recognized and respected industry leader, Lynne has helped other communities build similar programs and services across the country. She has also served on the Leading Age Leadership Alumni Board of Directors.
Hear more in this discussion about how reinventing retirement is a real commitment to improved health, and can be part of a critical life plan for millions of Americans.
EPISODE 2
Creating Incredible Paths for Improved Healthcare, with Jennie Chin Hansen, MS, RN, FAAN
Kian Saneii, Founder and CEO of Independa, hosts Jennie Chin Hansen in Kian's Kiosk. Jennie Chin Hansen MS, RN (inactive), FAAN is the immediate past CEO of the American Geriatrics Society, the largest professional membership organization of physicians and other health professionals committed to the care of older adults with managing care complexity. Prior to this position, she was president of the 38 million-member AARP.
Hear more in this discussion about how we can better prepare for dealing with an older population and our healthcare challenges in general, including the need for improved health equity for vulnerable populations, and so much more.
EPISODE 1
Caring for an aging population, a walk through the years with Dr. Richard Della Penna, Independa Chief Medical Officer.
The discussion today looks back over the career of Dr. Richard Della Penna and how he came to join the team at Independa as Chief Medical Officer after a very distinguished career at Kaiser Permanente. Dr. Della Penna lives by the adage of 'I don't care how much you know until I know how much you care', and he brings this philosophy to his contributions at Independa, and to the marketplace.
Kian and Richard talk about how the critical need for caring for older adults and keeping them more comfortable, secure and at home longer.
EXECUTIVE INTERVIEW
Kian Saneii, Independa and Parks Associates Connected Health Summit