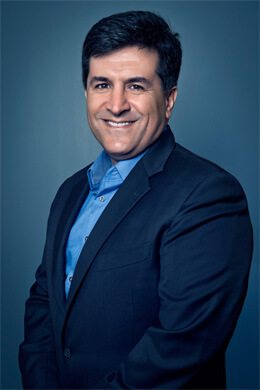 KIAN SANEII, FOUNDER, CHIEF EXECUTIVE OFFICER & CHAIRMAN
Kian Saneii brings more than 25 years of leadership experience to Independa as our CEO. Prior to Independa, Saneii was GM of Websense Wireless from 2005-2008. From 2001-2005 Saneii held roles as VP Marketing and VP Business Development at Websense, responsible for all aspects of global marketing, strategy, mergers and acquisitions, OEM sales, and business development through new strategic channels.
Before joining Websense, Saneii served as Senior Vice President, Worldwide Marketing and Business Development for IMA, Inc and IPNet Solutions, 1997-2001. From 1985 – 1997, Saneii served in management positions at AT&T Bell Laboratories, DIS Research and FileNet Corporation (acquired by IBM).
Saneii is a board member of The United Way of San Diego. He earned a Bachelor of Science in Computer Science with Honors, from New York University, Cum Laude, Phi Beta Kappa, NYU President's Award; also a Master of Computer Science from Rutgers University.
Why Independa?
"I experienced first hand the difficulties and related anguish of providing care to an elderly loved one, and set out to create an offering that would allow caregivers to "be there" regardless of their physical distance. This is long overdue, but now our partners and customers can improve their businesses while also improving the lives of those in their care, and the family members who support them."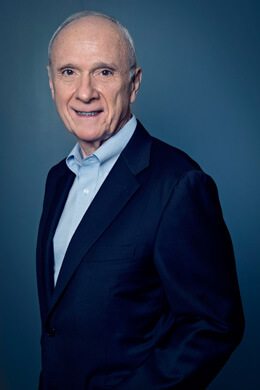 RICHARD DELLA PENNA, MD, CHIEF MEDICAL OFFICER
Richard Della Penna, MD, brings more than 32 years of medical experience to Independa as our Chief Medical Officer. He was a physician with Kaiser Permanente from 1977 until November 2009. From 1999 until 2009 he was on the staff of the Permanente Federation and the Care Management Institute in Oakland, California. During that time he held the positions of Medical Director of the Kaiser Permanente Aging Network and the National Clinical Lead for Elder and Palliative Care. In these roles, Dr. Della Penna collaborated with Kaiser's regional elder clinical care leaders and Kaiser Health Plan's Medicare leadership in strategic efforts to improve the care of Kaiser's nearly one million older adult members. His clinical and care improvement activities have focused on depression, dementia, interdisciplinary team training, long term care, transitional care, and palliative care.
He is a member of the Veteran Administration's National Geriatrics and Gerontology Advisory Commission and was on the Board of Directors of the National Alzheimer's Association from 2005 thru 2013. He is a member of the advisory board of the Practice Change Fellow Program, which provides leadership training to early and mid career physicians, social workers and nurses specializing in geriatrics and gerontology. He is the 2010 recipient of UCLA's David H. Solomon Award, which recognizes influential leaders in the field of Geriatrics.
Della Penna earned his Bachelor of Arts degree from the College of the Holy Cross, M.D. from Tufts University School of Medicine and was an Intern and Resident at Harvard Medical Service, Boston City Hospital.
Saneii is a board member of The United Way of San Diego. He earned a Bachelor of Science in Computer Science with Honors, from New York University, Cum Laude, Phi Beta Kappa, NYU President's Award; also a Master of Computer Science from Rutgers University.
Why Independa?
"I spent the entirety of my career in the elder care segment of the healthcare system. When I learned about Independa, I could not pass up an opportunity to help them succeed. The need is so great in the marketplace today and Independa is the only company I have found that is truly solving the critical issues facing caregivers and their loved ones.""

Want to know more?
Request your free brochure now!
If you have any questions about how Independa is transforming the daily lives of aging loved ones and their families, please contact us at: (800) 815-7829.
"Our guests use the video chat and photo and message sharing features of Independa to stay connected with their families. In fact this week we admitted a guest who has a daughter in Georgia and another in Italy. I spoke with the daughter about how to share photos and messages and to make video calls from her Independa device, and later went to see the guest about how it was going. She said to me "Kelly this video chat is so cool! I don't care how long I have to be in here now because I can see my daughters!" It's just amazing to see one of our guests be able to connect with a loved one all the way from Italy!"
Kelly M., Director of Rec Therapy
"You don't need to keep calling me now to remind me, my TV just told me to take my medication!"
93 Year Old Independa User
"I love that Dad can get digital photos now. He didn't want a Facebook account so the only time he would see any photos was when we came over to visit and we'd show him on our iPhone. Now he gets them himself on the TV all the time, and when people come to visit him he proudly shows them his photo album on the TV."
HUD Building Developer/Operator
"I've been using video chat and it has opened up my world – my family who live close by still visit once a week, but now I get to see them every day. I also get to see the rest of the family who live interstate and can't come to visit. I also video chat with old friends who I haven't seen for years. It has made such a big difference to my life, I don't feel isolated anymore. I highly recommend this to other people; it really does change your life."
HUD Building Developer/Operator
"I live in California, my 80 year-old dad lives in Texas and my 21 year-old daughter lives in Colorado. My daughter spends all her time on social media using her smart phone, whereas my dad spends all his time watching TV, he doesn't understand social media and doesn't have a smart phone. Independa is great because not only does it bring us closer despite the geographical distance between us, it bridges the gap between the generations because it uses the technology they are most comfortable with."
Independa User
"We use the video chat feature in the resident's TV to get the entire circle of care together at once; we will have the nurse and the physical therapist in the room with the resident, and we will then video call their family. That way everyone who is involved in their care gets the same message at the same time and can ask questions while we are present so there is no confusion. One time when we were working with a deaf resident, we were able to arrange for her daughter to sign via video chat and translate what we were saying and the questions her mother had; it made such a huge difference."
Short-term Rehab Operator
"My dad was on the Honor Flight to DC today. An amazing trip for a veteran. I was able to meet him at the Korean War Memorial. He is a Korean War veteran. I was able to send pictures of the entire experience to my mom at home throughout the day. Mom was thrilled, and when my dad gets home he has all the pictures from his trip on his TV and can even play a slideshow. Amazing!!! Thank you!"
Daughter of Independa User
"Video chat on the TV is great! I was using FaceTime on my iPad to see the grandkids and I thought that was the greatest thing, but seeing them all on the big TV is truly incredible, it's like they are in the room with me. I love it!"
HUD Building Developer/Operator
"When Lillian broke her hip a week before her Grandson's wedding, she and the family were broken hearted because they thought she would have to miss this very special day. Thankfully, she had chosen Wellbridge of Brighton for her short-term rehab. "I'm going to my Grandson's wedding" she proudly told the staff as she received the video call through her TV and was instantly 'seated' in the front row for the ceremony!"
Short-term Rehab
"I travel a lot for work. I used to worry myself sick about not being able to be there if Mom needed me. She says the smartphone I got her is too small, too complicated, and hard to see, but she loves using Independa. Now she can see all her shows and we can video chat so I can make sure she's taking her medicine. It's such a relief to check in anytime and know she's OK."
Daughter of Independa User