Independa Health Hub® offers ecosystem of health and wellness offerings integrated within LG Electronics smart TVs.
Los Angeles, Calif. – August 25, 2022 – Independa has been named the bronze winner for Most Innovative Product of The Year in the 10th annual Best in Biz Awards International, the only independent global business awards program judged each year by prominent editors and reporters from top-tier publications from around the world.
The Independa Health Hub is uniquely integrated within LG TVs and greatly improves access to a diverse range of curated consumer health offerings including 24/7 telehealth visits with doctors, dentists and mental health therapists, a free pharmacy discount program, free games, simplified video chat, photo and message sharing, video on demand content including from WebMD for medical-grade videos on a wide range of categories, exercise videos, interfaith video content, music therapy, educational tech support content, at-home health tests,  entertainment and so much more. With Independa, consumers can connect with healthcare providers, wellness services, family and friends in the comfort of their homes through their   familiar, large format TV screen.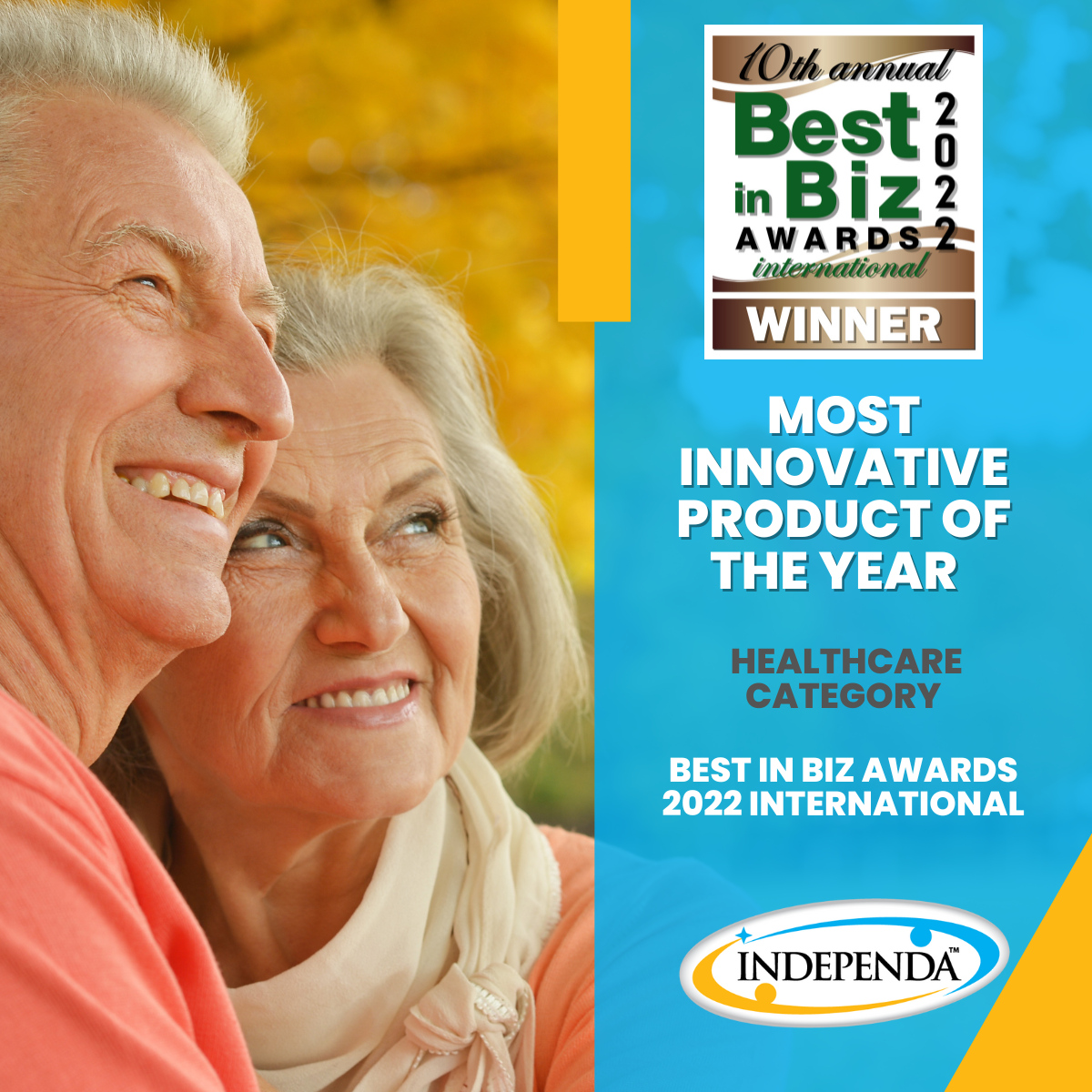 Winners in the 10th annual program were determined based on scoring from an independent panel of judges hailing from a wide spectrum of top-tier publications and media outlets and representing a total of 15 countries from all continents. Each year, only editors, writers and contributors to business, consumer, financial, trade and technology publications, as well as broadcast outlets and analyst firms, serve as judges in Best in Biz Awards. The program's uniqueness stems, in part, from this unparalleled composition of its judging panels, enabling it to best leverage the judges' objectivity, experience and unmatched expertise to determine award winners.
"Independa is very proud to be in the Most Innovative Product of the Year category in the Best in Biz awards this year," said Kian Saneii, founder and CEO of Independa. "This is further validation of our unique vision and offering for our amazing team, and for our group of outstanding Independa Health Hub ecosystem partners, all working passionately to deliver highly innovative and impactful offerings that are super easy to access and bring great benefit to people of all ages."
This year's judging panel included writers, editors and broadcasters from such publications as Data Breach Today, HTMAG (Israel), Huffington Post, NDR (Germany), Panorama Magazine (United Arab Emirates), Small Business IT (Canada), TechRadar (UK), as well as other outlets from Australia, Brazil, Canada, India, Indonesia, New Zealand, Nigeria, United Kingdom and more.
Over the past 10 years and throughout a global pandemic, Best in Biz Awards has seen applications from the best in global business. While 2022 continued to be a year of challenges for numerous industries, the winning entries ultimately showcased incredible innovation, resilience and growth. Best in Biz Awards 2022 International honors were presented in a range of categories, including Fastest-Growing Company of the Year, Most Innovative Company of the Year, Customer Service Department of the Year, Executive of the Year, Enterprise Product, Most Innovative Product and Corporate Social Responsibility Program of the Year.
For a full list of gold, silver and bronze winners in Best in Biz Awards 2022 International, visit: http://intl.bestinbizawards.com/intl-2022-winners.
About Independa
Founded in 2009, Independa, Inc, is the innovator of the award-winning TV-based social engagement, education and care platform. Independa enables simplified yet powerful remote engagement to those most difficult to reach, most socially isolated, and most expensive to care for — whether professionally or through family and friends. Independa transforms a person's standard TV into a bi-directional engagement window to the world, enabling caregivers and loved ones alike to connect with the TV through a standard browser or an iOS or Android app. For senior living communities, homecare organizations, PACE programs, CCRCs and CCRCs at home, insurance organizations, and others providing care from a distance, Independa improves the care recipient quality of life and care, while increasing staffing and operational efficiencies and effectiveness. Independa helps people stay at their residence of choice longer, safer and more comfortably, delivering on the joys and possibilities of a Life, Connected™. Connect with Independa at independa.com, as well as on Facebook, Instagram, Twitter and LinkedIn.
About Best in Biz Awards
Since 2011, Best in Biz Awards has made its mark as the only independent business awards program judged each year by a who's who of prominent reporters and editors from top-tier publications from North America and around the world. Best in Biz Awards honors are conferred in two separate programs: North America and International, and in more than 100 categories, including company, team, executive, product, and CSR, media, PR and other categories. For more info about the International program, see: http://intl.bestinbizawards.com.
###
All registered or unregistered trademarks are the sole property of their respective owners.
Marketing & PR Contact:
Sandra Sick
Independa
marketing@independa.com
Please follow and like us: